This is actually a little late in the week, but I thought I post which books I got from the library last Thursday. There's about nine books, but I've already read two, which are already reviewd: so check those out... they are Megan Meade's Guide to the McGowan Boys and Artichoke's Heart. But I thought'd I share the unread ones (: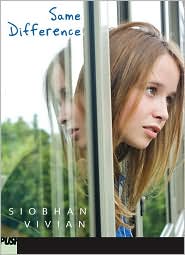 The last thing sixteen-year-old Emily wnats is to pool hop and tan her way through another summer in Cherry Grove. Now that her best friend has a boyfriend, everything feels...different in a way Emily doesn't quite understand. So when offered a spot at a prestigious art program in Philadelphia, Emily jumps at the change to leave her hometown for a few hours a day.
But it takes more than a change of sceneary and a new group of friends to discover yourself. As Emily bounces between a suberb where everyone tries to fit in and a city where everyone wants to be unique, she struggles to find her own identity. And while the rules may change, the pressures remain the same. Friendships can be hard to navigate. Boys are both deeply mysterious and utterly predictable. And the line between right and wrong is always a little blurry.
In Same Difference, acclaimed author Siobhan Vivian paints a realistic and detailed picture of what it's like to be a teenager- including the joy, thrill, and heartache we all expericence when we're figuring out who we really are.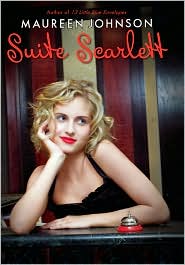 Her family owns the Hopewell, a small hotel in the heart of New York City. Her nineteen-year-old brother, Spencer, is an out of work actor facing a family deadline to get his career in order. Eighteen-year-old Lola has the delicate looks of a model, the practical nature of a nurse, and a wealthy society
boyfriend. Eleven-year-old Marlene is the family terror with a tragic past.
When the Martins turn fifteen, they are each expected to take over the care of a suite in the once elegant, now shabby, Art Deco hotel. For Scarlett's fifteenth birthday, she gets both a room called the Empire Suite, and a permanent guest named Mrs. Amberson. Scarlett doesn't quite know what to make of this C-list scarlet, worl traveler, and aspiring autobiographer who wants to take over her life. And when she meets Eric, an astonishingly gorgeous actor who has just moved to the city, her summer takes a second unexpected turn.
With Mrs. Amberson calling the shots, Spencer's career to save, Lola's love life to navigate around, and Marlene's prying eyes everywhere, things won't be easy. Before the summer is over, Scarlett will have to surive a whirlwind of thievery, Broadway glamour, romantic missteps, and theatrical deception. The show, as they say, must always go on...
James: Popular, smart, and athletic, James seems to have it all. But the only thing James really wants is his college acceptance letter, so he can get far away from Alabama after high school. He's tired of the same old parties; the tennis team; his so-called girlfriend; his ex, Claire - and especially his quiet younger brother, Alex. In a town where secrets are hard to keep, everyone knows what Alex did at the annual back-to-school party. The only question is why.
Alex: With his friends no longer talking to him and his brother constantly in motion, Alex is prepared to get through Junior year on his own. And he would, if his ten-year-old neighbor, Henry, didn't keep showing up, looking for company. Even James seems intrigued by Henry, and by the strange cars that come and go from his house across the street. But what Alex cares most about is running, and when he's encouraged to try out for cross-country, he's suprised to find more than just a supportive teammate in his brother's friend Nathen.
Thoughful and moving, What They Always Tell Us is powerful debut novel about the bond between two brothers- and the year that changes everything.
Fifteen-year-old Amanda Himmelfarb has an out-of-control frizz bomb, a pointy chin, and a humilitating nickname still trailing her from middle school. Worse, The Captain (Amanda's code name for her mother) thinks she's a total disaster; they argue so much that Amanda's perfect little sister, aka Malady, can do no wrong; and Dad, La La Man, is too busy trying to fly under The Captain's radar to be much help. Though she's never had one before, Amanda is certain of one thing: a boyfriend would fix all her problems.
So when Rick Hayes, the hottest guy at Stone Creek High, starts flirting with her, it seems like nothing short of a miracle. Even better, Rick happens to be boyfriend of Courtney Flakey, the phony who coined the nickname Himmelfart in the first place. But secret make-out sessions at the back of a parking lot aren't what Amanda is looking for: she wants to be Rick's girlfriend. So when he offers her The Deal- her virginity in exchange for a real, official date to homecoming dance- it may be Amanda's chance to shake her loser image once and for all. Or not.

Sharp, chatty, and brutally honest, this debut novel by Michelle Baldini and Lynn Biederman is compulsively rereadable, and heartbreakingly real.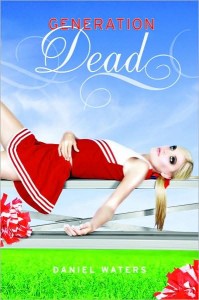 All over the country, a strange phenomenon is occurring. Some teenagers who
die aren't staying dead. They are coming back to life, but they are no longer the same. Termed "living impaired" or "differently biotic," they are doing their best to blend into society again.
But the kids at Oakvale High don't want to take classes or eat in the cafeteria next to someone who isn't breathing. And there are no laws to protect the differently biotic from the people who want them to disappear- for good.
With her pale skin and goth wardrobe, Pheobe Kendall has never run with the popular crowd. But no one can believe it when she falls for Tommy Williams, the leader of the dead kids: not her best friend, Margi, and especially not her neighbor Adam, the star of the football team. Adam has realized that his feelings for Pheobe run much deeper than friendship. He would do anything for her- but what if protecting Tommy is the one thing that would make her happy?
Generation Dead is a sharp, funny, and original novel from an exciing new talent.

Well, there they are. Look out for the reviews on all these books [: