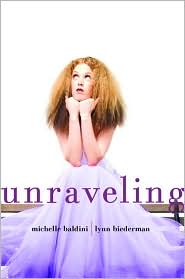 Title: Unraveling
Author: Michelle Baldini & Lynn Biederman
Publisher: Random House
Pages:230
Rating: 4/5
Fifteen-year-old Amanda Himmelfarb has an out-of-control frizz bomb, a pointy chin, and a humilitating nickname still trailing her from middle school. Worse, The Captain (Amanda's code name for her mother) thinks she's a total disaster; they argue so much that Amanda's perfect little sister, aka Malady, can do no wrong; and Dad, La La Man, is too busy trying to fly under The Captain's radar to be much help. Though she's never had one before, Amanda is certain of one thing: a boyfriend would fix all her problems.

So when Rick Hayes, the hottest guy at Stone Creek High, starts flirting with her, it seems like nothing short of a miracle. Even better, Rick happens to be boyfriend of Courtney Flakey, the phony who coined the nickname Himmelfart in the first place. But secret make-out sessions at the back of a parking lot aren't what Amanda is looking for: she wants to be Rick's girlfriend. So when he offers her The Deal- her virginity in exchange for a real, official date to homecoming dance- it may be Amanda's chance to shake her loser image once and for all. Or not.

Sharp, chatty, and brutally honest, this debut novel by Michelle Baldini and Lynn Biederman is compulsively rereadable, and heartbreakingly real.
I found this book a little bit predictiable about "The Deal," you kind of knew what was going to happen. Which happens with most books, but there was also a whole other reason behind the book. The relationship between Amanda and her mother was kind of depressing. If I a mother who treated me that way I would be really hurt. But ever so slighty, her mother begins to open up to her oldest daughter...and it was great to see that happen. Unraveling is part funny, and part serious. It's about growing up and finding yourself. I liked this book, I think that you will too... Go pick up a copy and find out for yourself.