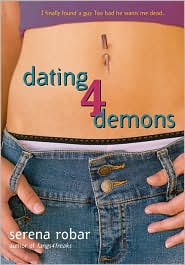 Title: Dating 4 Demons
Author: Serena Robar
Pages: 191
Publisher: Berkley Pusblising
Rating: 6/5
Vampire politics. I can swing that. But acient languages are a different story, which is where my new tutor, Hunter, comes in. So what if his idea of a great study spot is the local graveyard? I can appreciate that. And with Colby Blanchard for a best friend, not to mention my nortorious sarcasm, who'd've thought I'd find a boyfriend? Colby's perky, blond, and the founder of a half-blood vampire sorority - while I love fried food and wearing black. But I've always perfered the shade - until now.
Maybe he's just attentive and... not a seriously colossal threat?
Ever since I staked that demon zombie -a no brainer for someone like Colby, but seriously strange for living chicks like yours truely - Hunter's been studying me. Most girls freak about guys who don't listen, but this one's practically taking notes. Sure, he's eye-catching in combat boots, but this boy's definately persuing more than a good-night kiss. Like dirt on Psi Phi and it's undead sisters - plus those world ending prophesies revolving around "the Protector, " aka Colby. Unless he thinks we're one and the same? Laughable. Or maybe not...
Review:
The final book was my all time favorite. There was tons of humor, in which I often laughed out loud and got weird stares from. But it was all cool, because it fit in with the whole book. I loved the humor mixed in with the vampire plot, it mixed great - who knew? This book goes from Piper's point of view, to Colby's throughout the book, and both go together. Overall, this book series, and the last book were great. I loved the last though, remember that! So I leave you with a funny teaser from the book, but not a spolier;
"To my shock and dismay, his head detatched from his body and now Colby was holding it upside down against her chest. She tossed it to number four; the surprised look on his face was pretty classic. He threw it back and before I knew it they were playing a game of hot potatoe with this guy's noggin."