I know it's getting kind of old with me returning books I haven't read yet and not reviewed. I've done it twice, but the second was the last! I returned, thirteen- yes thirteen, books I couldn't get into and got five I'm interested in, and there WILL BE reviews. Pinky promise - and I don't break those!
1.) Along For the Ride by Sarah Dessen:
Riding a bike is only one of the many things Auden's missed out on. Even before her parents' divorce, she was cast in the role of little adult, never making waves, focusing on academics to please her demanding mother.
Now she's spending the summer before college in the tiny beach town of Colby with her father and his new wife and baby. A job in a trendy boutique introduces her to the world of girls, their friendships, conversations, romances. And then there's Eli, an intriguing loner. A former star on the bike circuit and a fellow insomniac, Eli introduces Auden to the nocturnal world of Colby. Together they embark on a quest: for Auden, to experience the carefree teenage life she's been denied; for Eli, to put a tragic episode behind him. Combine two lonely people with a charming beach town and an endless supply of long summer nights, and just about anything can happen.
2.) One Lonely Degree by C.K Kelly Martin:
Anything is possible. . . . Finn has always felt out of place, but suddenly her world is unraveling. It started with The Party. And Adam Porter. And the night in September that changed everything. The only person who knows about that night is Audrey—Finn's best friend, her witness to everything, and the one person Finn trusts implicitly. So when Finn's childhood friend Jersy moves back to town—reckless, beautiful Jersy, all lips and eyes and hair so soft you'd want to dip your fingers into it if you weren't careful—Finn gives her blessing for Audrey to date him. How could she possibly say no to Audrey?
With Audrey gone for the summer, though, Finn finds herself spending more and more time with Jersy, and for the first time in her life, something feels right. But Finn can't be the girl who does this to her best friend . . . can she?
3.) Boys That Bite by Mari Mancusi:
My mom is so going to kill me if she finds out I'm turning into a vampire. Okay, so technically she can't because I'm immortal. Well, not yet. See, due to the worst case of mistaken identity with my dark-side-loving twin sister at a Goth hangout called Club Fang, Magnus, a vampire hottie, went for my inncoent neck instead of hers. Now, if I don't reverse it in time, Magnus will be my blood mate forever and I'm doomed to be a blood-gulping, pasty, daylight-hating vampire. Believe me, it seriously bites.

After the unfortunate slaying of the vampire leader, it's up to me, my sister, and Magnus to find the one thing that can solve my problem- the Holy Grail. No joke. I seriously hope I can get out of this in time because, somehow, I scored the hottest prom date in my school, the mouth-watering Jake Wilder. And I do not want to be a vampire for the prom- let alone the rest of enternity...

4.) Jessica's Guide to Dating on the Darkside by Beth Fantaskey:

Enter a bizarre new exchange student named Lucius Vladescu who claims Jessica is a Romanian vampire princess by birth and he's her long-lost finace. He's arrogant, officious, embarrassingly overprotective, and, well, incredibly hot.

Armed with a copy of Growing Up Undead: A Teen Vampire's Guide to Dating, Health, and Emotions, Jessica tries to imagine the transition from an average American teenager to a glam European vampire princess. But just when things start to heat up with Lucius, a devious cheerleader sets her sights on him.

Soon Jess finds herself fighting to win back her wayward prince, stop a global vampire war- and have Lucius's soul from eternal damnation. All of which leaves her to wonder: Wouldn't her life be easier if she could just fall for a nice mortal boy?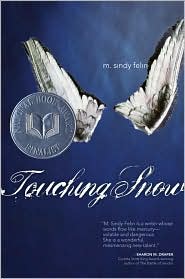 5.) Touching Snow bt M. Sindy Felin:
Karina has plenty to worry about on the last day of seventh grade: finding three Ds and a C on her report card again, getting laughed at by everyone again, being sent to the principal — again. She'd like this to change, but with her and her sisters dodging their stepfather's fists every day after school, she doesn't have time to do much self-reflecting. Finally her stepfather is taken away on child abuse charges, and Karina thinks things might turn into something resembling normal. The problem is, he's not gone for good.
And as Karina becomes closer with a girl at the community center where her stepfather is not showing up for his parenting classes, she starts to realize a couple things. First, for all the problems her family had tried to escape by immigrating from Haiti, they brought most of them along to upstate New York. And second, if anything is going to change for this family, it is going to be up to Karina and her sisters to make it happen.
_________________________________________
That's this week's In My Mailbox in order from the ones I can't wait to read. The last one's title is the exact font of my header! I had to say that, random, but who cares (: I can't wait to read Along for the Ride.
What did you get this week?