Alright, I'm hosting a new meme. Have you seen those UK verus USA book cover posts? Well, I think Friday Night Book Wars sounds a little cuter- for my blog anyway. So that's what I'll be doing! Posting YA book covers that are in other countries - yes, countries. If I can find them, anyways- and compare them and choose the winner. Whadya think? Oh, and I'm posting this in the morning rather than night, just for once. Don't fret.
________

This week's Book War is Wings by Aprilynne Pike's Wings.
Up first, the UK version:
Up next, the USA: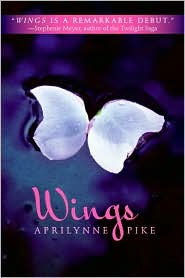 The verdict: I love the UK's version better. Something about it is just magical. And I think it fits the story really good. As for the USA's, it's pretty. Simple and elegant, and the message is there. But it doesn't catch my attention as the UK's does. So, what do ya think?