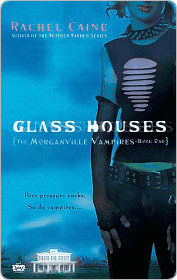 Title: Glass Houses
Author: Rachel Caine
Publisher: NAL Jam
Pages: 256
Rating: 5/5
Just don't stay out after dark.
College freshman Claire Danvers has had enough of her nightmarish dorm situation, where the popular girls never let her forget just where she ranks in the school's social scene: somewhere less than zero.
When Claire heads off-campus, the imposing old house where she finds a room may not be much better. Her new roommates don't show many signs of life. But they'll have Claire's back when the town's deepest secrets come crawling out, hungry for fresh blood.
Review:
I love this book. I can't say it anymore. Some reviews will say the plot wasn't put together well, or blah blah blah. I couldn't disagree anymore. I found it dark, funny, and full of mystery.
The characters in the book are well created, they felt real. And that's something I look forward into books, I hate when it's just one not rounded character. Shane, Eve, and Michael were all hilarious at times, then serious at others times. Shane was by far my favorite, he was a typical guy who I found funny. The only thing I didn't like about the characters was that Claire was a freshman in college and sixteen. Is that possible?
The writing was okay. I haven't gotten that far review wise with writing, it all looks the same to me. Yes, yes, I know. Anyways. I found the plot good as well.
I liked the theme that vampires rule a city, and you have to have protection to live there. Well, something around that. I love anything vampires. We all know that. This book is about real vampires, the cross, stake, fire, holy water hating ones. Portrayed evil in this book, but I still prefer the ones that sparkle [;
Overall, I enjoyed this book and loved it. If you want a sort-of light read, with vampires attached. I recommend you read this! I know this review sucks, but I'm out of 'training', per say, but yeah.