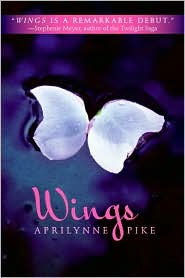 Title: Wings
"Laurel was mesmerized, staring at the pale things with wide eyes. They were terrifyingly beautiful—too beautiful for words.

Laurel turned to the mirror again, her eyes on the hovering petals that floated beside her head. They looked almost like wings.

In this extraordinary tale of magic and intrigue, romance and danger, everything you thought you knew about faeries will be changed forever."
Okay. Here the school I have been wanting to read this book for so long. So long. But then I saw Miley Cyrus was playing Laurel, before I read the book. I automatically didn't want to read it anymore. So, every time Laurel in the book spoke, I heard Cyrus's twang. Shivers. I should learn if a book turns into a movie, I'll read the book first BEFORE researching the actors. But, eventually I got over it and enjoyed the book.
The characters in the book all had some purpose in the story. I liked Laurel. She was strong though everything. But even stronger with her friends and family. Okay, as we all know, in my reviews I post the boy I favored [; This one was a toughie! But I liked both, haha. The love triangle was enticing.
The paranormal part of this story was totally unexpected. You think that it's automatically about fairies. Which well, it is. But Pike's view of fairies and how they age is marvelous. I love seeing new views of anything paranormal. I give the author props for making it so new.

The writing style was brilliant. I often found myself fully drawn into the book. The author does a wonderful job describing. The plot was very interesting as well. It's visibly seen, but is hidden with the great descriptions! I didn't like the cliffhanger, but who does?
Overall, I found this book creative, enticing, full of mythical creatures, and most of all... Enjoyable. Looking forward to reading the next book in the sequel, which is released in the fall. Look for it! [: