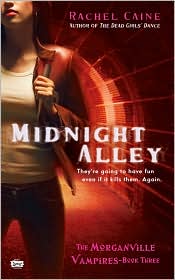 Title: Midnight Alley
Author: Rachel Caine
Publisher: NAL Jam
Pages: 245
Rating: 4.5/5



Claire Danvers's college town may be run by vampires but a truce between the living and the dead made things relatively safe. For a while. Now people are turning up dead, a psycho is stalking her, and an ancient bloodsucker has proposed private mentoring. To what end, Claire will find out. And it's giving night school a whole new meaning.
* This Description is so much better, the one on the book doesn't even state true things. Like she transferred schools, she didn't even consider it!*
My Thoughts;
This is the third book of the Morganville Vampires' series. The series follows Eve, Shane, Michael, and Claire. Together, they get though everything that happens to them. No matter how hard the task. They always look after each other, and this book of the series is even
creepier
than the last.
This book had it a little slow for me, for some reason I couldn't get into like the past two books. Don't know what went on there, but here's the review review.
I'm finding out about the characters more with this book. You really start to undersatnd why they do things, and the reason behind it. Even their quirks. The last book I told you I liked Ameile. Wrong, she's creepy and I don't like her anymore.
The writing is still same as ever, the plot more enticing. You often find out that there is a lot of mystery. And this is, by far, not a mystery book. I have to add, there's some of sexual humor. I don't know if that's a good thing or bad, because I found it funny. Overall, the plot had me standing on my toes. Waiting for what's going to happen next.
If you read the first two and loved it, you're going to love the next in this series. There are two more books to this series and I'm finding it harder and harder to post a review without giving spoilers o.O.