In My Mailbox was created by Kristi from The Story Siren, and inspired by Alea at The Book Junkie. Went to the library and picked up four books, three of which are tiny. But seem really good. As for the picture, I was feeling cutesy; so you get a cute picture [:

"That first day of class, her eyes had flickered over him the way a teacher's eye will. But hers had come back to rest. Before flitting away again. It was too late. She had seen him. Connor pretended she hadn't, but she had. It terrified him. It made his blood sing. His history teacher, Ms. Timms.

At last, Connor understood tha this life was to live. No more pity love. Not from his aunts and neighbors. Not from missing mothers and fathers. Not from drunks. The real thing was his this time; he just needed to take it."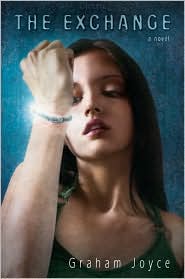 "A taut, otherworldly thriller set in contemporary England.
Caz and her best friend Lucy have a secret. Late at night, they break into stranger home not to steal anything, just for the rush. Then Caz gets caught in the act by elderly Mrs. Tranter, and before she knows it, the old woman has snapped a silver bracelet around her wrist.
Caz can't remove it, no matter what she does; and then it becomes part of her, sinking into her skin like a tattoo. Worst and most unsettling of all, it's given her an unpredictable kind of ESP. She can see into people's inner lives, whether she wants to or not. The Exchange is gritty magical realism with a sense of humorjust right for fans of Holly Black and Sonya Hartnett."
"Shelby's summer plans go totally awry when her horrible stepmother sends her off to "brat camp" as punishment for one too many broken curfews. Camp is full of spoiled rich kids, obnoxious counselors wanting Shelby to talk about her feelings, and a totally inhumane "no cell phones" policy.
Things start looking up, though, when Shelby meets fellow camper (and son of a rock star) Austin Bridges III. But soon she realizes there's more to Austin than crush material—his family has a dark secret, and he wants Shelby's help guarding it. Shelby knows that bad boys get her into trouble…but who is she to turn her back on a guy in need, especially such a good-looking one?
Heather Davis's debut novel mixes together irresistible characters, a pesky full moon, and a delicious taste of the supernatural. "
"Mankind is Sunkind And rules by the light; Nightlings are Moonkind, And rule in the night; Or there will be war. Human and Nightlings are never to meet, but when Genna and her brother Dan venture into the old forest at night, they encounter a Nightling slave who reveals a terrifying secret: Genna and Dan's village chieftain has made a dangerous deal with Letrin, ruler of the Nightlings, offering the lives of his people in exchange for his own immortality.
To save the villagers and themselves, Genna and Dan strike their own bargain with the Nightling lord, but the stakes are even higher. Now, the siblings must embark upon a journey along the Moonroads, and bring back the key to Letrin's downfall.
"The stories people tell are always about the things we left behind, and about the things we wish we could do again. The real story isn't about what you know; it's about what you wish you knew then. When my brother and my best friend fell in love—that was the end of everything I knew.
Fraternal twins Nadio and Noelle share a close connection—and as Noelle's best friend since they were five, Keeley Shipley fit perfectly into their world. But everything changes after Keeley spends the summer before junior year at Oxford. When Keeley returns, Nadio falls in love with her. Noelle, ripped apart by resentment, sees her as an ungrateful rich girl. But Keeley has a painful story that she can't tell yet. As Nadio and Keeley hide their romance, Noelle dives into something of her own—a destructive affair with an older boy."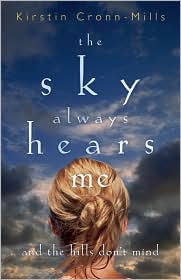 "Sixteen-year-old Morgan lives in a hick town. Her mom was killed in a car accident when she was two, her dad drinks, and her stepmom is a non-entity. Her boyfriend Derek is boring and she can't stop staring at her coworker Rob's cute butt. Then there's the kiss she shared with her neighbor Tessa . . . But when Morgan discovers a devastating secret about the one person she completely trusted, her entire world crashes and she must redefine her life and herself."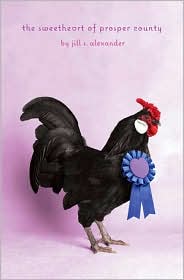 "Almost-15-year-old Austin Gray is tired of standing at the curb and watching the parade pass her by. Literally. She decides this is the year she'll ride on the hood of a shiny pickup truck in the annual parade, waving to the crowd and finally showing the town bully that she's got what it takes to be the Sweetheart of Prosper County.
But far from simply being a beauty contest, becoming Sweetheart involves participation in the Future Farmers of America (FFA), raising an animal, and hunting or fishing. Austin will do almost anything to become Sweetheart, and has the support of her oldest friend, Maribel, her new FFA friends (including the reigning Sweetheart, and a quiet, cute cowboy), an evangelical Elvis impersonator, a mysterious Cajun outcast, and a rooster named Charles Dickens. If only her momma would stop overprotecting her, and start letting Austin live her own life. But Austin can't move on until Momma moves on, too—and lets the grief of losing Austin's daddy several years before out into the open."
_________________________
That's all I got this week. I've heard good things about Never Cry Werewolf, so I'm exicted to read that. The other two are slightly interesting, but the last I'm not sure if it's Young Adult or not? Hm, well, that's it.